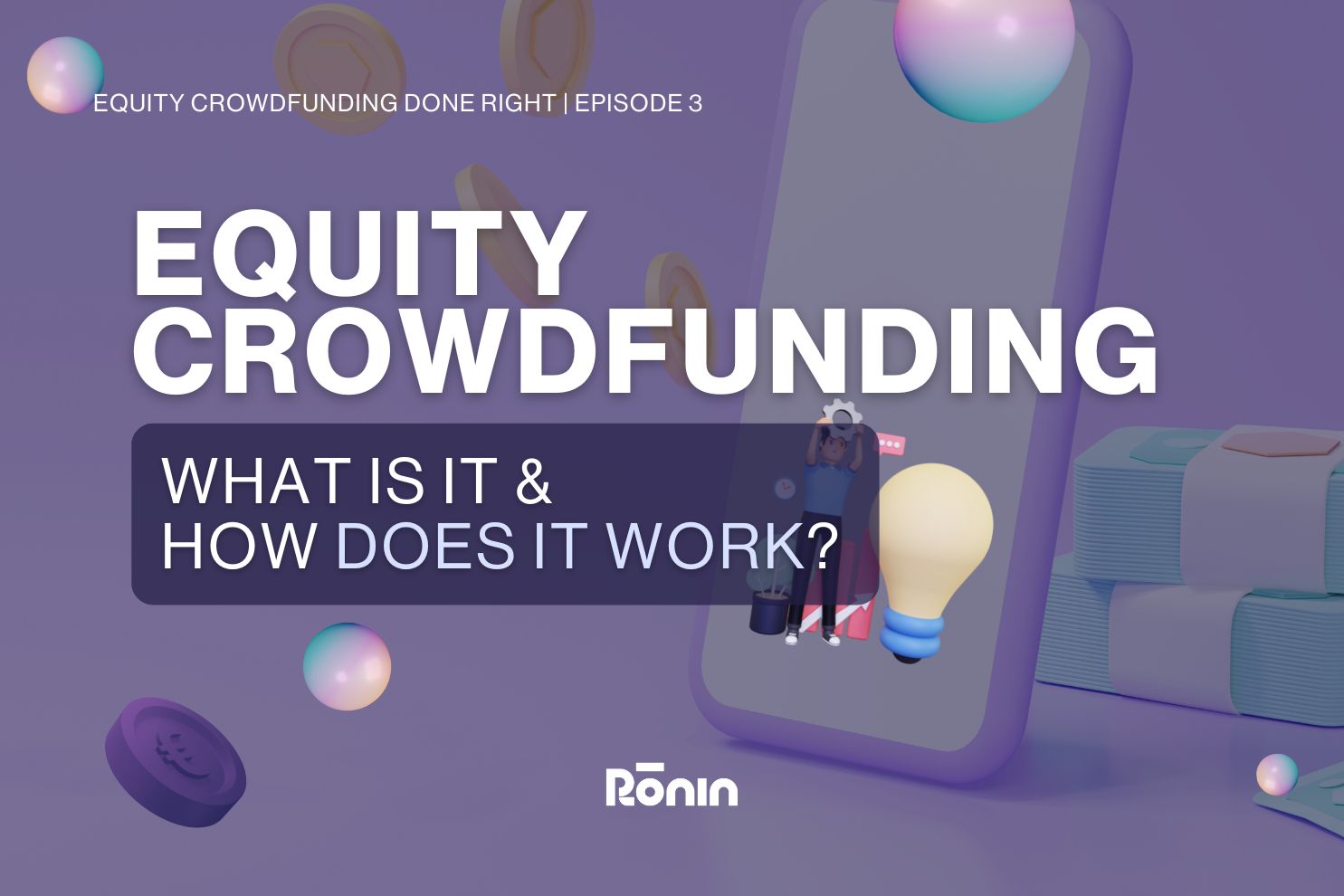 Equity Crowdfunding Done Right | Episode 3: What is Equity Crowdfunding? Is it right for you?
Rōnin Team on octombrie 3rd, 2022 / Crowdfunding Journey, Founder Resources / 10 min read
If your business is more than just an idea or concept written on a napkin, this may be the right time to consider Equity Crowdfunding. Equity Crowdfunding can be a win/win situation. But first, let's talk a little bit about the history…
It will be a bit difficult if we want to put a start date to the very beginning of crowdfunding. However, the latest info looks as follows: the first known equity-based crowdfunding platform was launched in June 2009 by Grow VC Group, the beta version, and in 2010 it was launched commercially. In 2011, ProFounder launched the startup model to raise money directly from the website. Unfortunately, due to regulatory issues, it had to be closed. One of the first publicly traded crowdfunding platforms in the US was EquityNet, and other early platforms include CrowdCube and Seedrs in the UK.
How big is Equity Crowdfunding?
The COVID-19 pandemic affected many industries, but… it was not the case for equity crowdfunding, which experienced an astonishing increase. With all the buzz around the concept and new platforms, partnerships, and campaigns appearing daily, more than $ 211 million was raised in 2020. The year 2021 was no worse, doubling the amount.
Source: Statista
In 2020, in Europe (excluding the UK), the volume of total equity-based crowdfunding transactions reached $280 million. Now reread it because that is something. According to Forbes, "By 2025, the crowdfunding market is predicted to grow by nearly $200 billion, with a compound annual growth rate of over 15%."
On the other hand, in Romania, this niche is at the beginning of the road. Something fantastic is happening, and entrepreneurs and investors are embracing it. There is a growing interest in stories that have the potential to grow, regardless of the vertical. Things are advancing at an overwhelming rate.
Types of Crowdfunding
There are four types of crowdfunding. You need to clearly define the campaign's objective and the audience you are addressing to start drawing the successful crowdfunding campaign you aspire to.
1. Rewards Crowdfunding
This is the most popular type of crowdfunding. This involves setting reward levels that correspond to the amount of the pledge. They are often found for tangible products that require less than $ 100,000 in funding.
2. Equity Crowdfunding
It gained popularity after the signing of the Jumpstart Our Business Startups (JOBS). You can have an infinite number of investors in exchange for an amount of equity, but this does not give them voting power. Equity Crowdfunding campaigns last several months and are quite suitable for startups looking for consistent funding.
3. Donation Crowdfunding 
Crowdfunding for donations is exactly as the name suggests. It is suitable for social clauses or charities.
4. Lending Crowdfunding
Loan-based crowdfunding is meant to help founders raise money through a loan with a repayment term. They work very well in a short time and for entrepreneurs who are not willing to give up their capital.
But how does crowdfunding work?
It might sound like a vast and complex industry to deal with, but the truth is there are some simple steps you need to check on your list to raise capital to grow your startup successfully:
Step1. Get ready for the pre-launching phase of your crowdfunding campaign. That requires due diligence, a business plan, a pitch deck, and financial projections to ensure your business will sustainably generate revenue in the long run. What you need to consider for this step:
Choose a crowdfunding platform to reach investors
There are a variety of crowdfunding platforms. To choose the right one for your business, do some detective work: how have other campaigns evolved? What are the percentages of funding you have to give to the platform? Or equity? What is the history, and how credible is the platform? With these answers on paper, you can more easily choose the right platform for your startup.
Set your financial goal and the timeline to achieve it
When you set your financial plan, be clear, concise, and realistic. After that, put a time frame – you can choose to go for a short term to create buzz and hype among investors, or you can select a longer timeline; it's up to you.
Create a pitch and a promotion campaign
How do you do that? Simply answer the question, "Why should people invest in your startup?". Yup… that's simple. ????  To persuade investors to put their money into your business, you need to create a clear and bold presentation that covers everything – from vision, problem & solution, market, competition, traction, team, objectives, financial plans, and offers. After that, help the big social media to spread the word.
Step 2. Strategy and planning your crowdfunding campaign. In this step, you want to make sure everything is crystal clear and you know what you're aiming for. Define your financing objective, your startup valuation, and what kind of equity model you're willing to approach – direct shares, convertible loans, or any other option. Another aspect you don't want to miss is planning your exit. Planning is the main focus of this step. But don't forget everything in moderation. Including moderation. 
Step 3. Launching and promoting your crowdfunding campaign. All this planning values nothing if you forget about your community's wisdom and power. If you don't have one, it's time to build it. Otherwise, you may be looking for smart capitalization and buzz right now. In the end, your startup company needs to grow with the help and support of the people. Pitching, networking, outreach campaigns, endorsements, and partnerships are some of the tactics you might consider for this stage. The main focus in this stage is to provide incentives and urge investors to act as soon as possible. Communicate clearly with potential investors – what they will receive in return for the investment – discounts, exclusivity for your products or services, etc. Make sure everyone learns about Endorsements by Key people in the industry and strategic partnerships. 
Step 4. Value the power of the community, get and implement the feedback. We often hear that founders and entrepreneurs are usually ego-driven, which might affect the development of businesses. We don't want to generalize, but studies are showing us startups fail because of the incapacity of their founders to get rid of the ego and switch it to openness and the ability to embrace flexibility. 
Step 5. Securing the financing and executing the business plan. No matter what type of funding you seek, you will need to prepare and submit a business plan that details exactly how you plan to launch operations, secure customers, and grow the business, with short, medium & long objectives in mind. 
Step 6. The relationship with your investors and business partners. There's no secret that good business is usually based on a trusted and transparent relationship with all stakeholders involved in the business. Keep in mind that this happens from your side with clear boundaries but simultaneously providing everything you have promised to deliver. Investors and business partners often invest their resources in the founder's mindset and character, besides the numbers and business plans. 
Like any type of financing, Equity Crowdfunding has pros and cons. We talked about them in detail in a blog article, but we leave them below:
The advantages are:
You can raise a more significant amount of money from a lot of investors;

Administrative processes and financial reporting can be simplified through crowdfunding platforms, offering virtually raised funds in a single investment;

You don't have to worry about refunds;

All the agitation in social media brings you good PR and the possibility to increase your contact list;

The community can validate your business model.
The disadvantages are the following:
You cannot outsource fundraising;

You need to give up equity, obviously

If you don't reach the target, you don't get anything

You must also consider the legislative norms of this type of financing, there are limits of how much and how often  you can crowdfund

You need to treat everything with complete transparency.
Who is equity crowdfunding for?
Equity crowdfunding offers startups the opportunity to raise more funds and allows the general public to invest in a passionate project or in a field of interest of a startup without any hassle. Investors can support companies so easily. It is worth mentioning that in recent years a paradigm has emerged according to which a startup is a wrong tech startup. As mentioned, it is a paradigm that must be treated as such.
Equity Crowdfunding is for any type of startup. From any vertical. For any business that has an innovative approach or an exciting business model. And an adequate level of investment readiness.
Rōnin's primary focus is the startups in the pre-seed and seed stages, regardless of the vertical he is part of. Currently, in the market, there is a paradigm that only tech startups have an innovation component. Which is totally wrong.
If we look at the companies that have had successful crowdfunding campaigns on the Rōnin platform – we can see various ideas from Augmented Analytics to football matchmaking. For example, Softlead they have explored digital transformation and offer a marketplace that helps companies find the best software solution through their own Digital DNA. See how Softlead's crowdfunding journey was like.
Another company that just started its campaign is Drooler. They make cooked, healthy, and good food for dogs, starting from the relationship of love and respect between dogs and owners. Go and explore Drooler's campaign. 
See? NO exclusivity for tech startups on weronin.com. You only have to share your passion for entrepreneurship and bring innovation to the table. To innovate means to make waves, no matter what industry you are in.
Do you have an idea that can shake up an industry? Join the Startup Reaktor tribe – the incubation program launched with ROTSA and Techcelerator.
Is Equity Crowdfunding for you?
Here's a checklist that will put you up to speed if you fancy an equity crowdfunding campaign: 
You are working on a prototype, a beta-tested version, a viable product, or one thatregistered some kind of traction: testing users, free downloads, revenue & co

You have a team that you can rely on with the skills needed to grow your business.

You have some business coaches, advisers, or even investors who understand the industry and have the skills to prepare you for success.

You can show  commitment, you've got skin in the game – part of the business's investmentcame from your wallet.

You have a clear business plan and a convincing pitch deck

You have intellectual property – a patent, a trademark … even a domain name that can lead to your business.
If you can check at least half of the items on the list below, it might be worth considering Equity Crowdfunding.
To sum up…
Equity Crowdfunding does not have roots in the past, appearing as a concept in 2009. It has advantages and disadvantages. Since 2020, it has received increased attention, reaching 211 million dollars raised through campaigns. Which means something, right?
Equity Crowdfunding is for any startup with bold ideas that want to solve a problem and change things for the better. . It does not matter the vertical industry or the development stage, really. . It's the business model and innovation spark that matters most. 
Ronin supports any type of pre-seed or seed startup. We give bold ideas the chance to shape a better future – we dream together, act together, invest together. We truly believe success is best when it's shared, and we are here to grow and support the startup ecosystem.
Read more insights
Investing Insights / 7 min read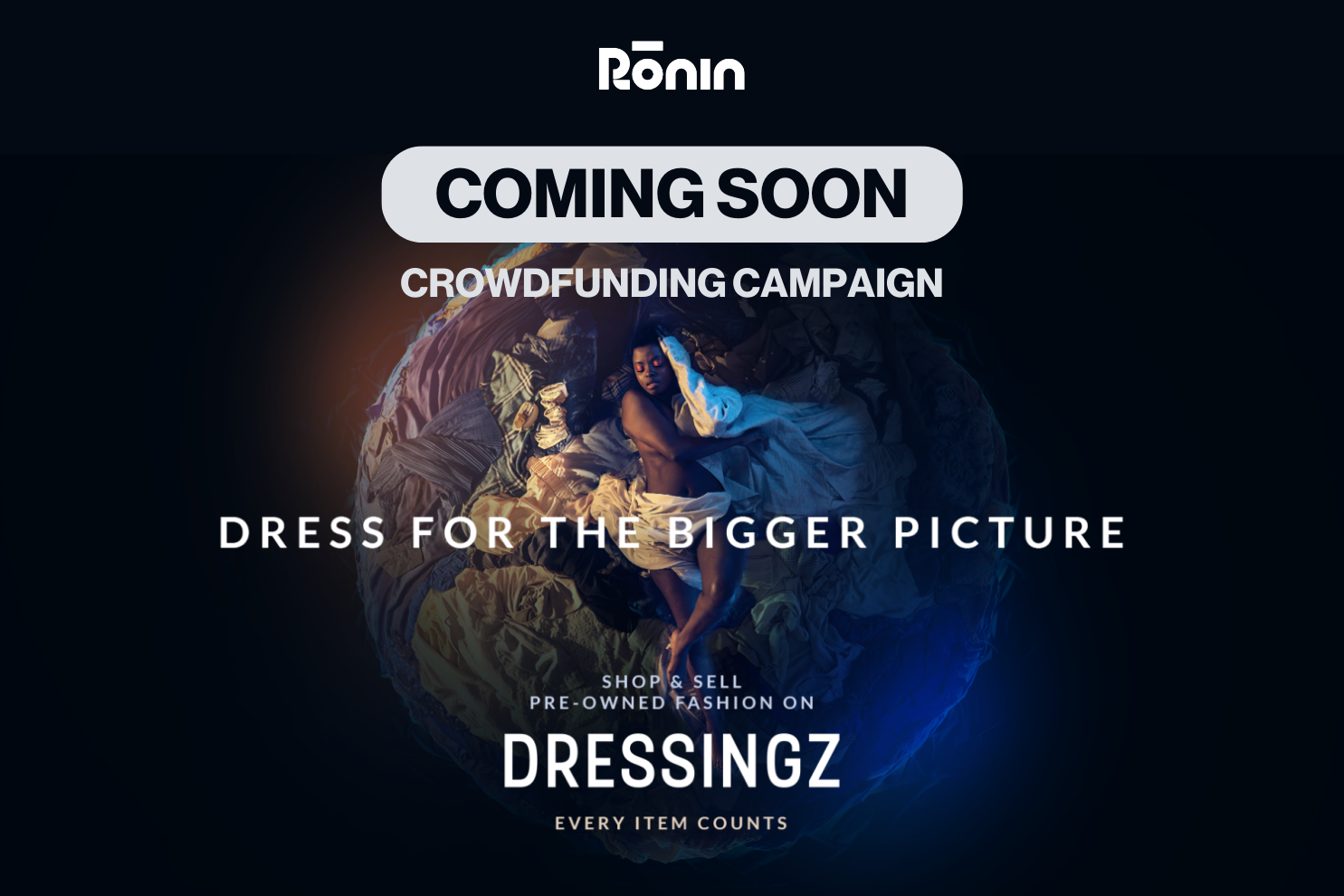 Crowdfunding campaign coming soon: Dressingz | Empowering fashion-conscious consumers with accessible pre-loved luxury
Andra Costin on mai 18th, 2023
In a world increasingly concerned about sustainability and conscious consumption, Dressingz emerges as a promising player in the pre-loved fashion industry. Their mission is to make resilient premium fashion more accessible, allowing people to enjoy high-quality clothing at affordable prices.
Product Updates / 5 min read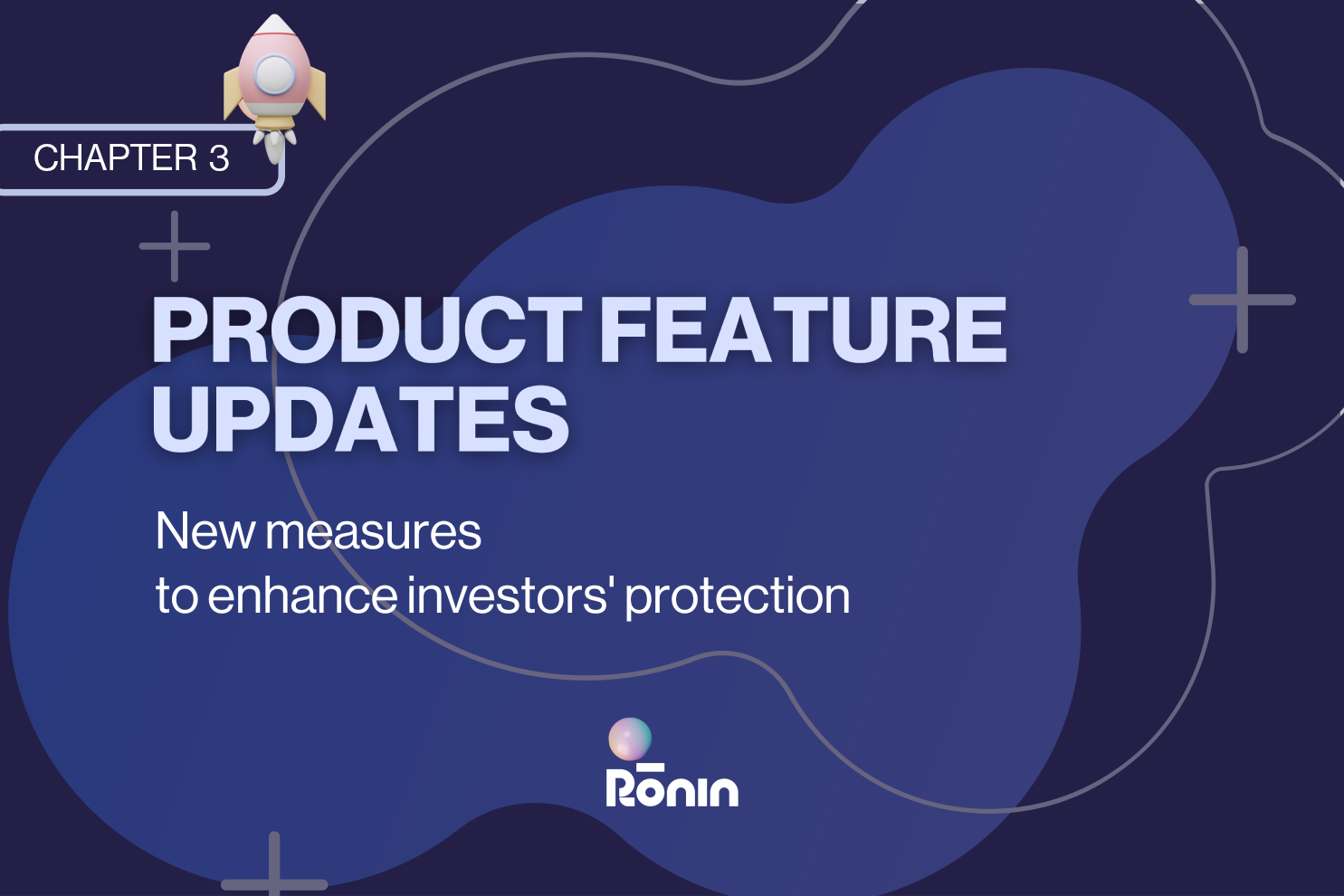 Product update: New measures to enhance investors' protection
Rōnin Team on ianuarie 31st, 2023
When it comes to safety & compliance, investor's protection is one of our main golden rules. To ensure adequate protection for all of our investors as they participate in crowdfunding campaigns, we have introduced appropriate protection measures for non-sophisticated investors.