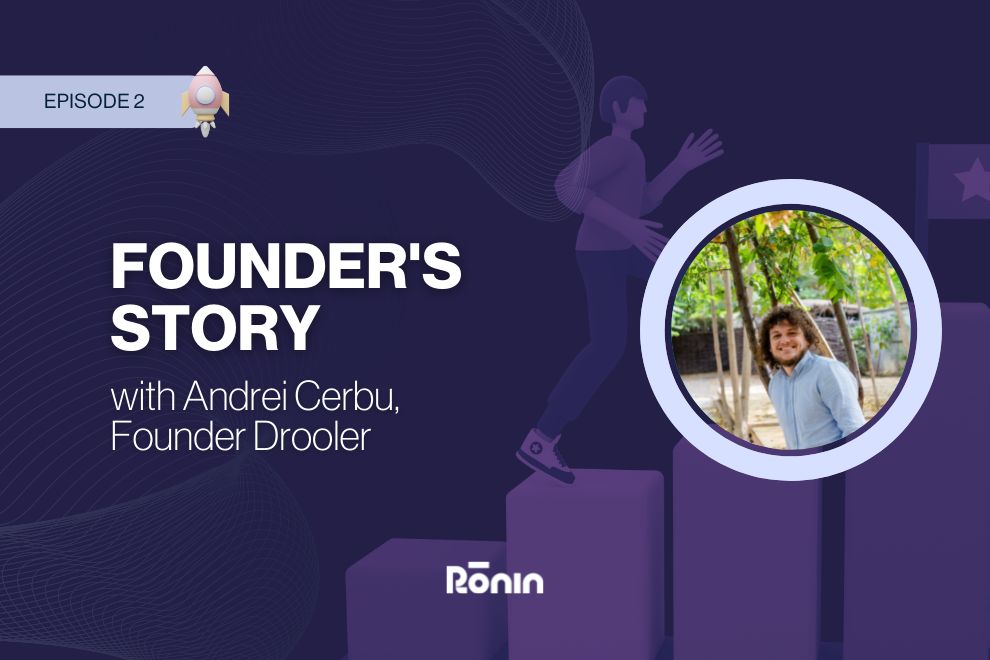 Founder's Story: Andrei Cerbu, Drooler
Rōnin Team on noiembrie 7th, 2022 / Founder's Story / 7 min read
Drooler aims to become the top brand in the Romanian dog food industry, providing healthier food for our furry friends and a lot of passion and education for dog owners. Developing such a contributing mission requires a lot of ambition, courage, and of course.. patience to switch a mentality and change consumers' behavior. 
We talked with Andrei Cerbu, Founder of Drooler, to find out what made him start such an inspiring journey.
Check their crowdfunding campaign here >>
1. What's the inspiration behind this innovative initiative?
Of course, it all started with my husky pet and friend, Foca. We owe a lot to our dogs: good personal health from walking them daily, good friends with common interests that we find in dog parks, of course, love, and many more. 
Some of us may even save some money that we don't spend on anti-depressants. I started raising Foca during the time I opened my first restaurant. And I think she was the most privileged dog of all time. She only ate expensive steaks I brought home daily from the restaurant's leftovers. 
And then it came to me: why not cook for dogs? 
But a dog doesn't know what he needs. And so I started research that lasted 4 years about cooked food for dogs that I had just finished in partnership with the Veterinarian Faculty from Cluj-Napoca, to be precisely sure about the content of the meals I fed to my dog. 
2. You plan to bring a new and fresh perspective to the dog's nutrition. Why now?
Lately, you can observe that every business has evolved. And this has many causes: high competition, client's new perspectives, technology, pandemics, and so on. It is high time for the dog food industry to evolve. And I believe that this is the next step: freshly cooked food, with tailor-made diets and home delivered.
Now, in 2022, technology is aiding even our furry friends to eat healthier.
3. How do you define innovation?
Innovation is not just a moment when you discover or improve something. I believe it is a constant process, a series of actions, a strategy that keeps you leading forward profitably.
4. You're the first brand in Romania to produce and deliver healthy dog food. How do you handle risk? What about the competition in the external markets? 
Being first is as easy as it is difficult.  It might be an opportunity to play with marketing and advertising instruments. You can create, define, and grow new concepts. And you can convert the risks into opportunities.  However, it's costly. Nowadays, your market share is as significant as your marketing pocket is. In newly created markets or industries, competition is always beneficial: it validates your product, splits the marketing costs, and always keeps you on your edge to innovate and be first.
We are prepared for the competition: our products are carefully researched and calculated, we have many more products that we will gradually release, we will have a good market share, and we have the best marketing and advertising team.
5. Why did you decide to start your crowdfunding campaign with Rōnin?
Usually, an entrepreneur is pitching his ideas to investors. This time, Ronin was pitched to me, by its founders, as the perfect solution to raise the required capital that I need to launch Drooler. 
And I indeed believed in it.
6. You mentioned that you would be using human food delivery platforms. Did you identify any potential challenges?
No. Not at all. We need to be everywhere our customer is online, on social media, delivery platforms, marketplaces, offline in pet shops and supermarkets etc. 
Because our customers will slowly migrate to our online platform, they will discover dedicated diet plans, subscriptions, discounts on our products, discounts to our partners' products, the chance to become part of the first dog lovers' community, and many more advantages.
7. What's your team and organization culture like?
Drooler is a mix of what I learned by running my own restaurants and what I learned while working for top corporations.  Even though we are just launching, we are split into a few departments: R&D, supply & production, transport & delivery, sales, marketing & advertising, and management.  During the first year I believe that my biggest challenge is to make every team collaborate perfectly by implementing an organizational culture.
A few years back, I would have said that this job might be too big for me.
But right now, I am very optimistic, and I can't wait to start the implementation.
8. Why should dog owners invest in Drooler?
Because it's one of the smartest financial actions they can do. Every dog owner who invests 1000 euros in Drooler will receive a lifetime 25% discount for the monthly subscription. This means that they will receive their return on investment from just ordering food for their dogs. Furthermore, by owning equity, they will also receive yearly dividends. And if this is not enough, their stock will also increase when the company value increases.
So tell me if this is not the smartest thing a dog owner can do in 2022?

9. What impact do you believe you've had so far?
To answer this question, I can describe a truly funny story. Recently I participated in an Horeca business conference. While in a networking pause, somebody asked me what I do now.  And I answered that I was launching a brand that produces freshly cooked dog food. The surprise came when he said that there is already someone else who does this, it's called Drooler. He was very enthusiastic about finding out that actually that someone was me. And he already wanted to meet me. Everybody knows about Drooler and is eager for me to launch. 
10. What's the best piece of advice you've received?
With great power comes great responsa….no…just kidding…I'm not SpiderMan…I'm super….no…kidding again. This year's advice was that if quality comes first, money is just a consequence. 
11. Do you think that through this initiative, there will be behavioral and mentality changes?
Yes! I truly believe this! Dog owners, pet shop owners, pet shop doctors, veterinarians, clients…everybody will change their mind because it's a business with a mission: to improve the quality of dog food. To be transparent. To treat. To become the first choice of a veterinarian when they have to prescribe a special food diet to an ill dog. To be ethical in terms of food source and waste management.  Drooler will become synonymous with "top-quality dog food".

12. We were impressed by your Rōnin spirit. How does it feel to be part of our community? 
We'll…it's a cool mindset: that a community can help grow a business.
13. Drooler aims to become the top brand in the Romanian dog food industry. Are there any future plans for expansion once this goal is achieved?
Of course! We won't stop here! I wouldn't have partnered with Ronin if I hadn't believed that Drooler couldn't become the top brand in Europe's dog food industry.

Support their mission and invest in their future development plans >>
Read more insights
Product Updates / 5 min read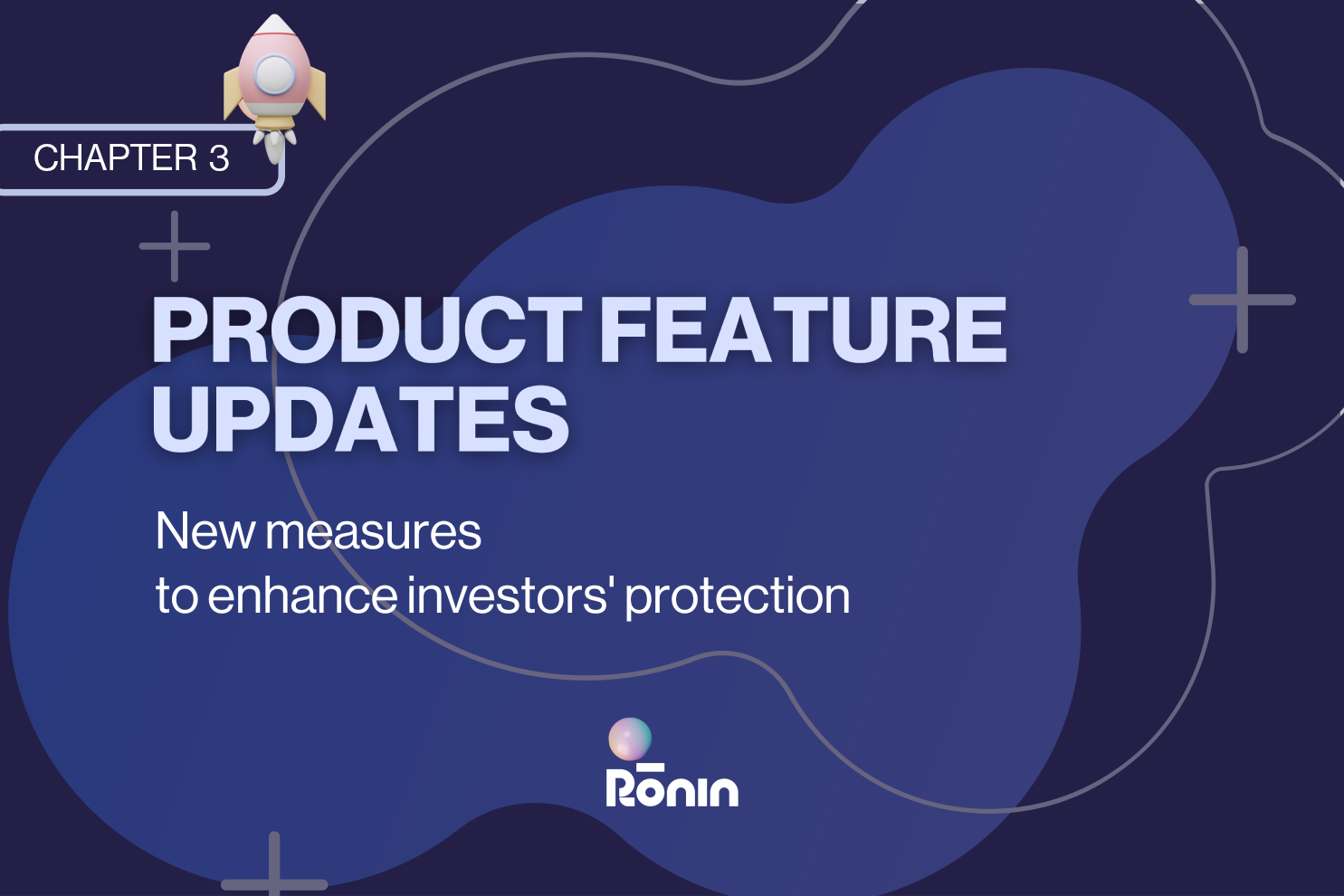 Product update: New measures to enhance investors' protection
Rōnin Team on ianuarie 31st, 2023
When it comes to safety & compliance, investor's protection is one of our main golden rules. To ensure adequate protection for all of our investors as they participate in crowdfunding campaigns, we have introduced appropriate protection measures for non-sophisticated investors.
Founder's Story / 5 min read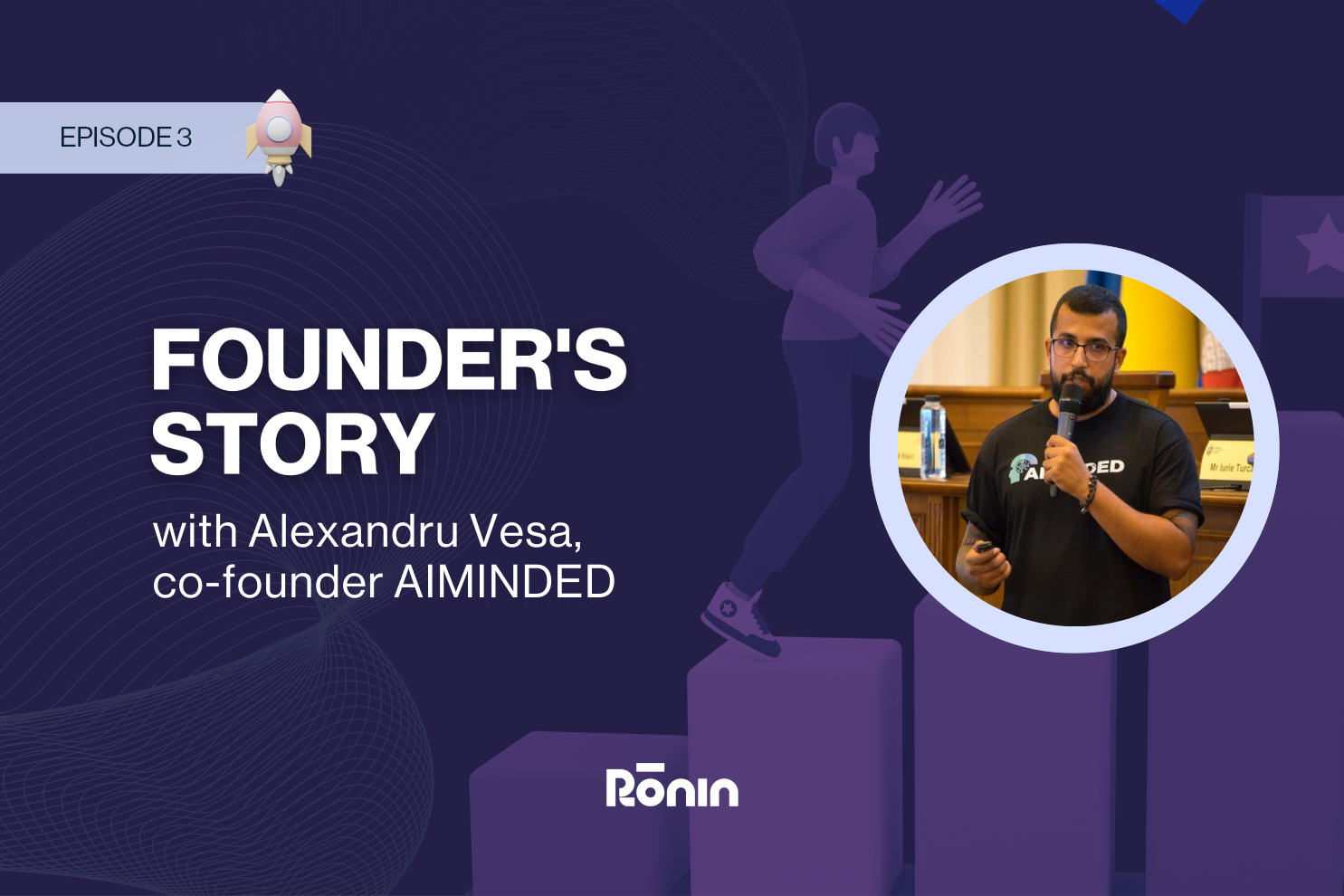 Founder's story: Alex Vesa, AIMINDED
Rōnin Team on ianuarie 26th, 2023
AIMinded aims to accelerate cancer treatment by automating image analysis in radiotherapy hospitals, in order to help doctors perform more efficiently and accurately. The solution offers doctors more time for complex tasks that need their attention, and also for patients. We talked with Alexandru Vesa, Co-Founder of AIMinded, to find out what made him start such an inspiring journey.