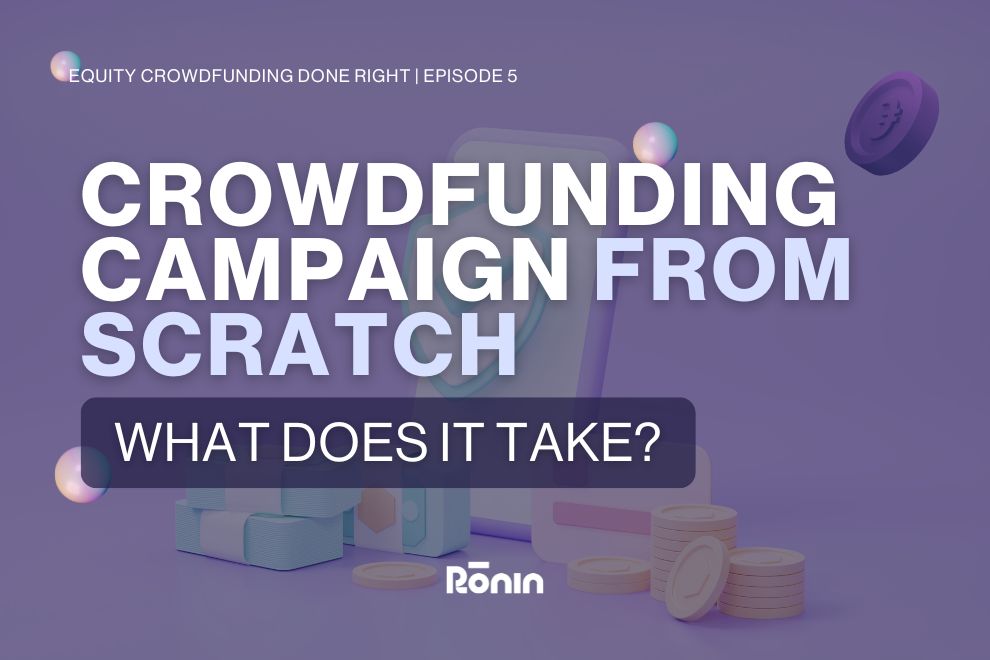 Equity Crowdfunding Done Right | Episode 5: Preparing for launch. What it takes to build a killer equity crowdfunding campaign?
Rōnin Team on octombrie 27th, 2022 / Crowdfunding Journey, Founder Resources / 9 min read
After you've chosen the right crowdfunding platform for you, the campaign launching process is about to begin. There are 3 main stages that startups should go through in order to launch their equity crowdfunding campaign successfully:
Applying for fundraising, passing the due diligence process and getting approved.
Preparing the campaign alongside the necessary business, legal, and marketing documents.
Building hype around the campaign before its launching.
So, shall we begin?
1. From joining Rōnin to launching a crowdfunding campaign
Application
The application is as simple as it can be – an end-to-end digital process consisting of filling in all the preliminary information and uploading the necessary documents (a pitch deck, a business plan, and other legal documents meant to support the due diligence process) on our platform, which takes up to a few minutes.
Evaluation & Due Diligence
In this last phase, we review all the startup's earlier submissions based on a thorough evaluation matrix and give them a score based on how strong their application is. If the score is more than 3 out of 5, we move forward with the process; otherwise, we'll suggest an incubation or acceleration program.
Application Resolution
This phase occurs once all the documents and plans have been examined by our experts. After getting the score, and the final evaluation, we provide applicants with all the necessary information and suggestions. Now comes the real work.
Crowdfunding Campaign Strategy
If the application resolution turns out successful, it's time to get ready for the campaign. This is when the campaign strategy must be put in place, meaning: cap table setting, defining valuation, target amount to raise, equity to offer, what type of investors might fit the campaign (retail or/and institutional investors, lead or strategic investors) and what actions needs to be taken in order to attract them. We offer our full support to startup founders, from ideas and introductions, to campaign marketing strategies and plans. The amount of time and effort spent preparing the campaign has a direct impact on the speed & amount a business raises. It's crucial to create hype and plan your marketing strategy before the campaign officially launches so that you can have some momentum built when you hit the ground running.
Coming Soon Period
Right now, the campaign is available in the 'Coming Soon' section. Here, investors will learn about the mission of the startup, and which solutions it brings to the market while signing up for a priority list. Things are getting ready so the crowdfunding campaign can go live.
Open for Priority List
Well, everybody on the Priority List waited for this moment to come – and here we go. Potential investors aiming to invest in the startup opportunity now have exclusive access for 48h to invest and place money into the startup they have signed up for.
Going Live
The moment we've all been waiting for has come – The campaign is now LIVE. This is the time for everybody to start investing. The campaign is open for public access for 60 days, but don't worry – once you have achieved your goal, it's your choice to close it sooner or, if the case allows it, extend the investment period.
2. Campaign Assembling 
We'll get deeper into what preparing an equity crowdfunding campaign consists of, from what essential documents are required to what the strategy should incorporate to raise capital.
What financial documentation should be provided?
A pitch deck: a short presentation that outlines your company's business plan, goals, services, and growth to potential investors.
The startup's financial statements for the past 3 years: Could easily be delivered by the bank.
Financial projections: These are cash flow, income, and balance sheet forecasts which show investors how their money would be spent.
Risk management: It identifies, assesses, and controls threats to capital and revenue.
As for the legal documents, the founder must present:
Incorporation documents: Legally verified company certificates on foundation, constitution, and legal structure.
Articles of Association: A document that defines a company's operations and purpose.
Shareholder/Partnership Agreement & co.: A formal agreement between business owners that details funding, management, owner roles, direction, and structure.
After handing over all the documents, and after the pitch agreement is signed on both parts, along with Ronin experts, founders will take part in mentoring sessions focused on improving the company's investment readiness. That takes us to The investment-ready mindset that you don't want to miss – everything you need to know about how you could possibly prepare mentally and psychologically for this journey, which is not easy at all.  Going back to the documentation, this step includes enhancing the company's pitch deck, business plan, and profit and loss projections to better position the company for success in front of potential investors. Another thing to be mentioned is Ronin goes all-in into this process to support the founders to start their crowdfunding campaign – mentoring sessions to level up the investment readiness level are our specialty, so you can effortlessly improve your pitch deck, business plan, and P&L projections in order to become more prepared for investors and increase the success chances.
Curious about what we look over within the evaluation process? Here we go: 
To ensure a transparent workflow of a crowdfunding campaign, we have designed The Application Evaluation Matrix, our evaluation framework to help us in the due diligence process, summing up a set of criteria that will maximize the success chances and make others invest in your idea. Let's take a look at what investors look at when considering investing in a company:
Investment terms & potential  — The company's investment potential, how it has been funded so far, and which significant investors support the company's efforts.
Novelty in the competitive edge – The main point of difference of the company, and how it brings stability in a volatile market.
Viable business model – The long-term prospects and figures of the company, how the company developed since its launch looking at the users, revenue and retention.
Efficient market rate – We calculate the market opportunity rate using the company's insights and market data. Is the go-to-market plan in line with market conditions and projections?
Stability of the product – How strong are the product's primary features? The processes involved in developing a product roadmap, and the way it converts into growth, scalability, and retention.
Traction & Team – Is the marketing strategy in line with the company's mission to grow? What does the community and user base look like? What are the team skills and background?
3. Creating a crowdfunding strategy and marketing plan for your campaign
In order to generate venture capital, no matter if it's via an equity crowdfunding portal or through angel investors, the most important things to be highlighted are the investment opportunities the startup possesses. So, to boost the level of trust and commitment among potential investors, it is important to have a very well-defined plan to gain access to capital. This should also cover which types of investors will be targeted, the tactics used to influence investment decisions. At this stage, you should definitely look after your marketing strategy and how you're going to promote your crowdfunding campaign. You might know a soft launch that gets off to a great start is something you really want for your crowdfunding campaign. You don't want to miss from the checklist email marketing, press and PR stunts, social media, and of course, a killer strategy to keep your loyal fans close and up-to-date.
While this may seem like a 'not too complicated process', not everything could be done in a week. There are several waiting periods, between the application and going live on our platform.  Here's a timeline with the most important phases of starting an equity crowdfunding campaign on our platform.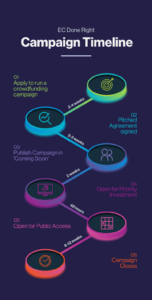 Presenting the proposal to the investors
Branding & Storytelling
A good story can make any company succeed. Inspiring investors, clients, and staff is essential. There are three essential elements necessary for any powerful story: critical situations, common ground, and connection. So, how should stories be told?
The go-to model would include a beginning, one or more conflicts, and an inspirational ending. But, storytelling needs a specific structure in order to make a brand more valuable. First, there's the idea, followed by a series of details such as difficulties in the business, burn-outs, and hard work, all lived and felt by the founder, after which comes the draft. Once refines, the draft becomes the story.
What are the investors looking for?
Investors want to see room for development and expansion before putting money into a startup. That's why they'll need proof that the demand for the service or product is expanding, and also that the marketing strategy aims to enhance the company's growth. The investment decision can be simplified if the founder has a firm grasp of the potential of the business and its resources. Once all of these are presented to the investors, raising capital would be much easier. The most important method to attract investors is by proving that the company is making headway in its intended market and growing.
Why are communities so important?
Community development is often overlooked as a marketing or consumer-centric business approach. Behind the innovation, research, and software there are people waiting to interact with one another, based on their common interests. When founders of early-stage startups can connect to others going through similar experiences, it helps them feel less isolated. The community is motivated to take action overall as a result of the startup's plea for their common sense of purpose.
But what should come first – the community or the product?
We think that an equal combination of both is the recipe for success. Although a very good measure to take is building a community before launching a product – this way, people will already be willing to see, test, and review its features. Either way, they are both very important depending on how the company wishes to position itself in the market. A good product and an engaged community are complementary – you can't have one without the other.
Conclusions
As you probably know, nothing fulfilling comes easy. Still, the great news is that we're keen on the process – that's why we're eager to support founders' crowdfunding journeys and investors' financial education. At the end of the day, it's all about everyone being successful and keeping ronin' together in a common mission of wealth creation. If there's not enough to jump into launching your crowdfunding campaign right away, and you need to explore more, find more from founders that successfully raised capital on our platform.
Read more insights
Investing Insights / 7 min read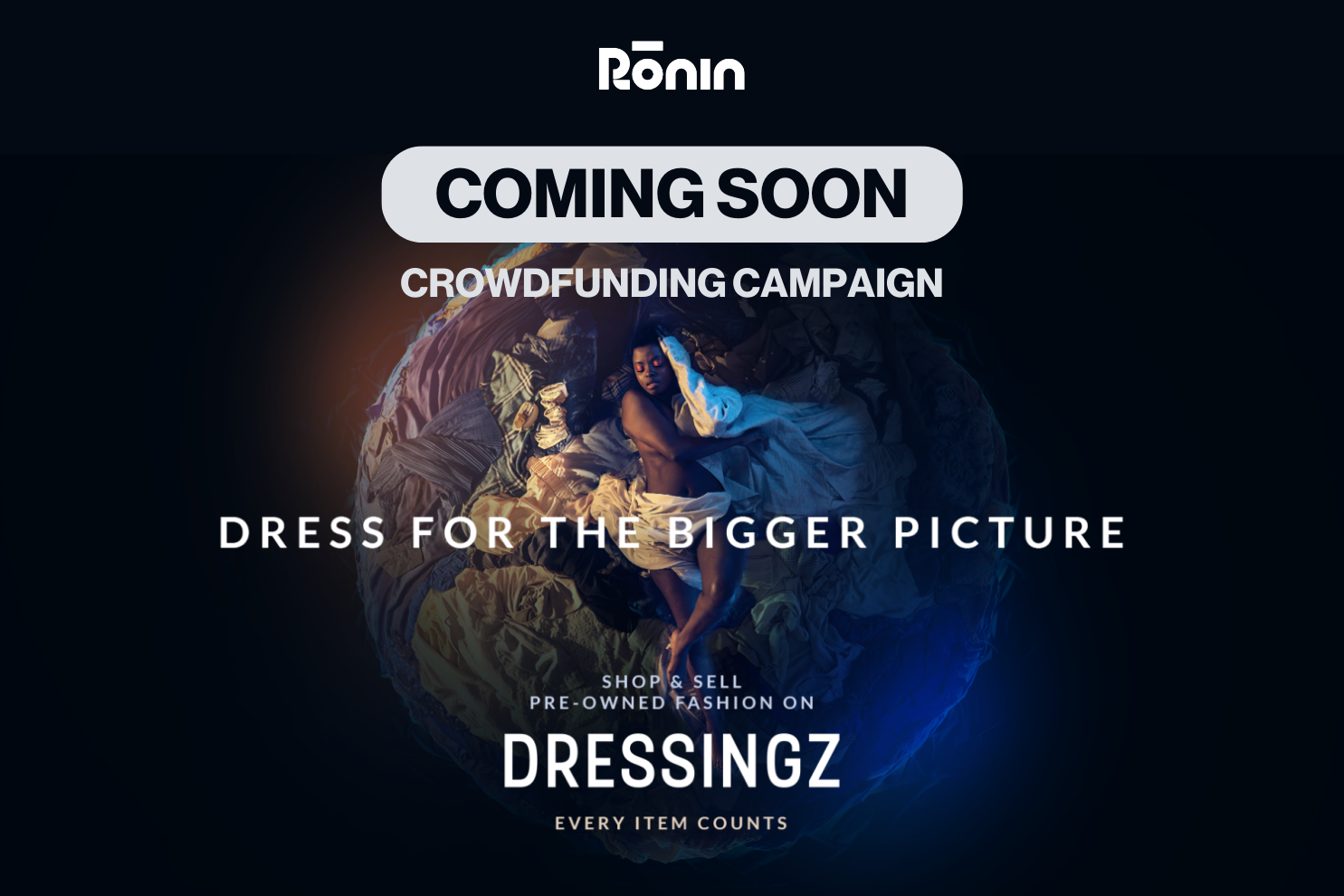 Crowdfunding campaign coming soon: Dressingz | Empowering fashion-conscious consumers with accessible pre-loved luxury
Andra Costin on mai 18th, 2023
In a world increasingly concerned about sustainability and conscious consumption, Dressingz emerges as a promising player in the pre-loved fashion industry. Their mission is to make resilient premium fashion more accessible, allowing people to enjoy high-quality clothing at affordable prices.
Product Updates / 5 min read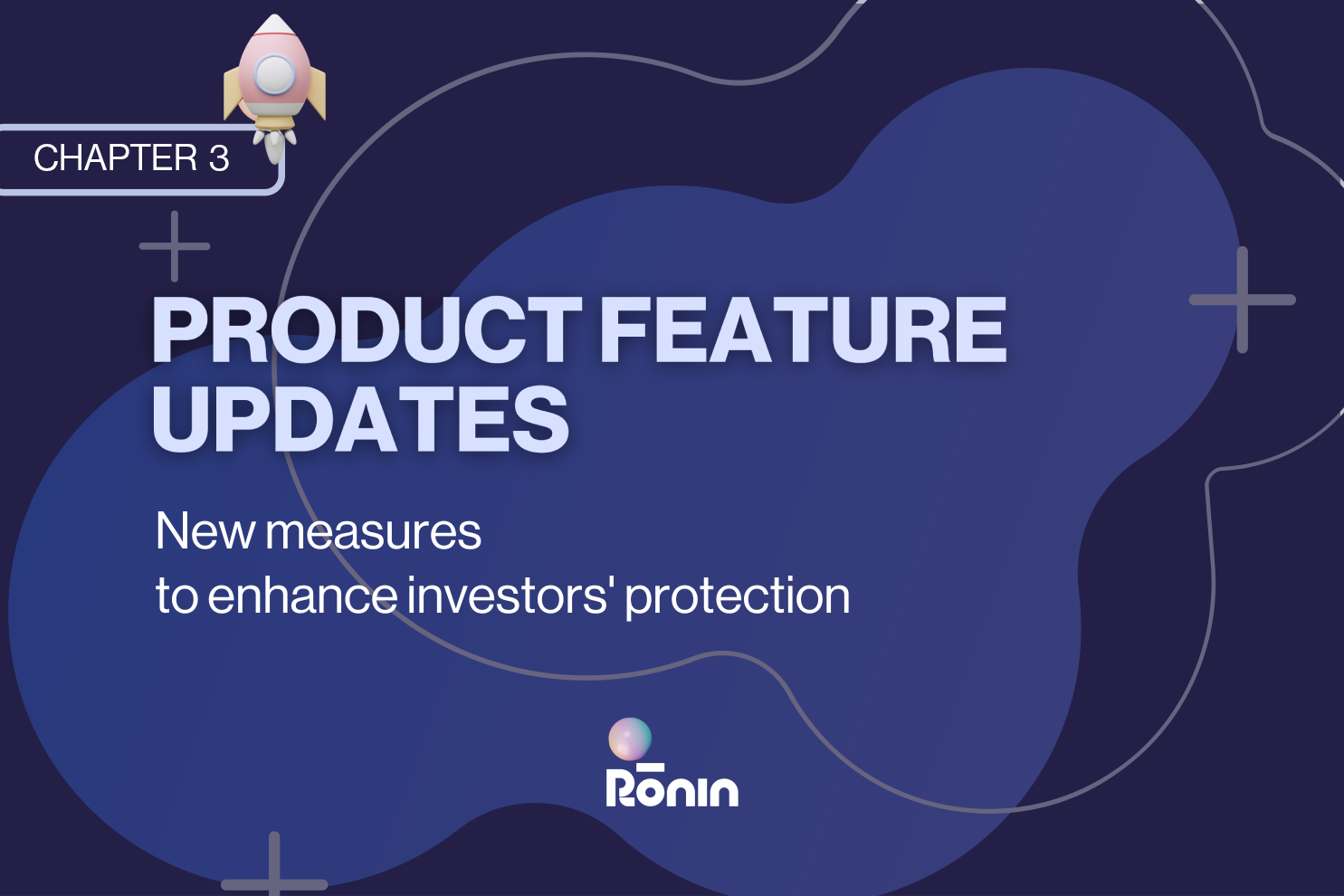 Product update: New measures to enhance investors' protection
Rōnin Team on ianuarie 31st, 2023
When it comes to safety & compliance, investor's protection is one of our main golden rules. To ensure adequate protection for all of our investors as they participate in crowdfunding campaigns, we have introduced appropriate protection measures for non-sophisticated investors.