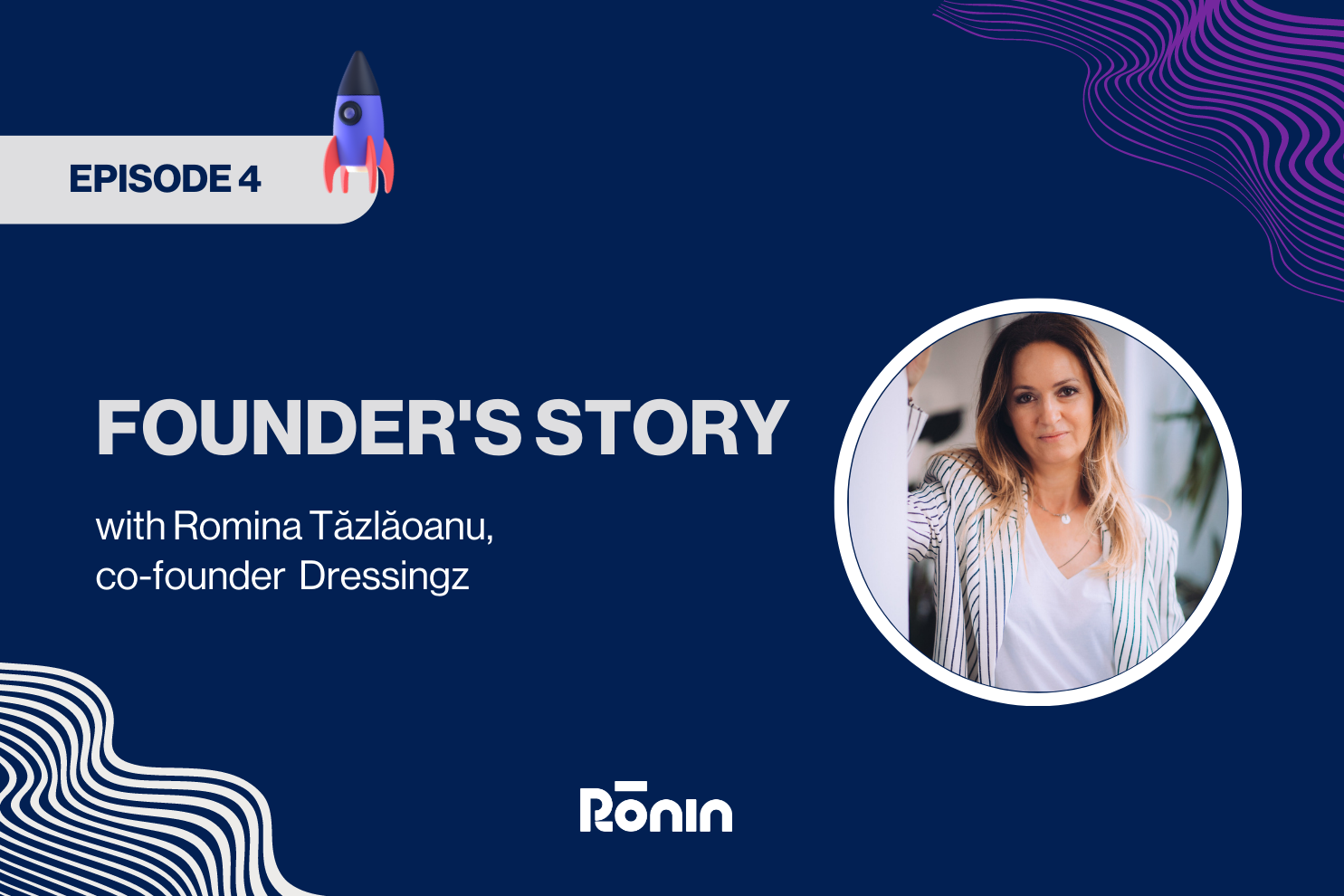 Paving the Path to Sustainable Fashion: Meet Romina, Founder of Dressingz
Andra Costin on July 24th, 2023 / Founder's Story / 10 min read
In times when fashion and technology may seem like two distant worlds, Romina, the founder of Dressingz, saw an opportunity to bridge the gap and create a transformative impact. With a remarkable background in the fast-paced tech and telco industry, Romina's journey took a fascinating turn when she decided to venture into the pre-loved fashion realm. Her passion for fashion and a deep concern for the environmental impact of the industry led her to pursue a different path – one where fashion meets sustainability with the help of cutting-edge technology – the birth of Dressingz. 
At its core, Dressingz aims to democratize access to premium pre-owned luxury, making it affordable and accessible to fashion enthusiasts while contributing to global sustainability goals. It's a win-win approach that benefits consumers and the planet alike.
Building Dressingz from the ground up has come with its share of challenges. Yet, Romina's unwavering determination and resilience have been her guiding stars. She has discovered the true meaning of embracing discomfort, pushing boundaries, and thriving amidst the ever-changing landscape of entrepreneurship.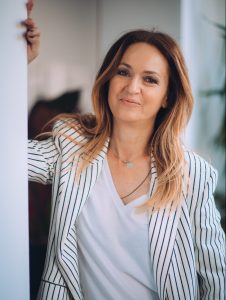 Driven by the belief that great things come with dedication, focus, and passion, Romina and the Dressingz team are redefining the way we consume fashion and care for our planet. Join us as we journey even deeper into the captivating tale of Dressingz and discover the vision that is reshaping the fashion industry for good straight from the founder herself, Romina.
Fashion and telco seem like they're worlds apart. What were the pivotal moments or events that led you to transition from a marketing career in tech and telco corporations to starting Dressingz in the pre-loved fashion industry?
During my years in Vodafone, I had the privilege to develop and lead brand projects that were really making a difference in people's lives, adding social value along with commercial value, via innovative use of technology.
At some point, I felt it was time to try to make a difference on my own. Bringing technology and fashion together was not at all a random choice. Fashion was an older passion, and I was very closely following the current situation of this industry, that is facing – or should I say creating – big environmental problems. The sad truth, this beauty-creator industry is causing huge damage to the environment, due to waste and pollution, being the no 2 most polluting industry in the world. I personally felt a bit hypocritical to love fashion and ignore the rest, the ugly rest. I decided to get involved and maximise efforts to make fashion sustainable, with the help of technology. 
Moreso, I have noticed the opportunity that Romanian fashion consumers were missing, by  choosing cheap quantity instead of quality, due to price barriers. This leads to low quality wardrobes, and, at macro level, to huge environmental problems. So, an easy access to  affordable authentic luxury, that contributes to sustainability goals, is making justice to both fashion consumers and the planet. Everybody gets to win through this fashion for the better approach: better wardrobes, better spendings, better future for our planet.
In what ways does your background and expertise contribute to the success of Dressingz? What lessons are you applying to the unique dynamic of a startup birth and growth?
First of all, the long experience in corporations has shaped me as a good professional, with important strengths that can make a difference in a business, such as: analytical thinking, decision ease, structure, focus, planning, execution discipline, people management, leadership skills. Besides this, I had the advantage of working in a creative area – the brand – so I had the chance to train and feed my appetite for innovation, creativity and craft, besides the expertise in building and growing brands. All this is very helpful today, in the business, when dealing with things from various areas, related to my direct expertise, or beyond. 
Can you share some insights into your journey and the challenges you faced while building Dressingz? Have you learned anything new or surprising about yourself through this process?
I wouldn't know what challenge to pick first, because startup is synonymous with everyday challenge. The biggest one? Always the one that you're looking at. From the most generic and widely common, like dealing with the uncertainty and covering all possible roles, to more specific ones, like finding the best expertise in sensitive areas (authenticity experts), or driving behaviors, changing mentalities, building credibility and trust.
Of course I have learned and discovered a lot of new things, for instance I have discovered that I am more resilient than I thought I was. Or I trained myself to be so, and fully embrace the mentality "if Plan A doesn't work, the alphabet has 25 more letters" type.
Also, I re-confirmed another belief – the harder you work, the luckier you get . I mean, for me, the conventional  "luck" doesn't exist in business. Or at least, you should never count on it – if it comes, it's a plus. But my indispensable allies are consistent effort and a strong intuition. In a way, intuition is my luck.
In a nutshell, the entrepreneurial journey is paved with challenges and lots of rewards, when it comes to personal growth. Routine is great for many, but truth is the only place to grow is in discomfort. I think I learned to cope with discomfort a lot better than before, by challenging my limits everyday.
How does Dressingz plan to make resilient premium fashion more accessible to consumers? What strategies do you employ?
Premium fashion becomes accessible only when purchased pre-owned, that's a fact. You can't rely on store discounts because luxury brands don't like terms like discounts or promotions  . So, we plan to democratize access to luxury, by driving the adoption of resell behavior, which is already on a peak trend abroad. 
First comes education, given the fact that authentic luxury resale is quite incipient in Romania. We educate sellers about the benefits of resell: detoxing wardrobes and space, taking out what they do not wear anymore. Some people are attached emotionally to their clothes, but eventually we all agree that memories are better kept in the heart, not in textiles. Then, by selling, they are making money for new acquisitions, re-covering a part of the investment made previously, which is a smart & efficient consumption behavior.
We also advise and educate our sellers into setting a fair price for their pre-loves items. We suggest the best selling price for the specific items, where best means with higher chances to sell fast. We do not dictate the listing price, we only advise, and then we follow up and make further recommendations.
We use a series of features and added services, to help users sell faster, like for example the promo service, which is creating more visibility for their items, through privileged listing. 
Strategic circular partnerships with fashion brands are also part of our strategy of making luxury more affordable for a larger public. We have 10 collabs already with Romanian designers brands and they all offer benefits to our users, once they list an item for sale, from the respective brand.
What role does technology play in Dressingz's mission to create a trusted and efficient environment for peer-to-peer trading in the fashion industry?
Technology is our foundation, it is the enabler and the "playground" of our users. We focus a lot on delivering a flawless user experience, but also aim to surprise our users with helpful features and along their journey. 
We innovate in the way we use technology, but we also work on a product innovation, a "first" in the fashion industry, a product extension that will enable consumers to handle re-selling and "re-wardrobing" more easily and efficiently, in an upgraded circular partnership model with fashion brands.
Can you share any specific achievements or milestones that you have accomplished since starting Dressingz? How have these successes shaped the trajectory of the company?
An important milestone reached is the authentic luxury listed inventory, around 1,000,000 eur value. This was our primary objective, attracting sellers with impressive wardrobes, so that we have what it needs to further attract the buyers. Our listed inventory is also attractive in terms of variety and uniqueness, attracting already international buyers, who reached us from Europe, but also Mexic, Canada and US. 
We are also proud of attracting a number of celebrity Ambassadors who are endorsing the circular fashion behaviour and have already opened their dressings on our platform. They build trust and credibility for our brand, besides generating interest in their famous wardrobes.
What's your team culture like? And how does it complement your vision for Dressingz?
Dressingz culture is built on values that are of course very personal to me, because I have to be the first to walk the talk and believe in what I preach. Humanity is one of our values, because it is very important to me to build a workplace where people are feeling well, are treated with respect and empathy, a work climate that leaves space to human emotions and really support the work-life balance principles.This value dictates andreflects the way we treat our customers, as well.
Then, it's Trust, a value that we put at the core of the way we operate. We want our customers to feel confident and have peace of mind when accessing our products, because we can understand their worries related especially to luxury authenticity. This is why we are not saving any effort in veryfing rigourously our luxury products with best in class authorized experts from United States. 
Besides this, we are a flat-hierarchy team that breathes commitment, collaboration and creativity, everybody being interconnected and covering all kinds of roles, when necessary. This also is a way to observe people's potential and allow them to access different career growth opportunities within the company, moving forward.
What was the best advice you've received as a startup founder? And the worst?
The best advice was to forget about perfection. Not to wait to have all details of the plan in place before hitting the Start button, in most of the projects. I am a perfectionist by nature, so it was not easy for me to follow, but I did it and I got used to adjusting things on the go.
 The worst advice was to blindly trust the data. Figures are very important, but "feeling" the customer and "hearing" your instincts are also important assets that need to be added in the analyzed blender. 
What's a belief or value that motivates you to go above and beyond in your endeavours?
I believe that great things come with great effort, commitment and focus. Plus, where there is passion, the effort becomes positive energy.
As Dressingz reaches its crowdfunding campaign's final days, we invite you to become a part of this journey. By investing in Dressingz, you not only support a visionary startup but also contribute to the global movement towards a more sustainable and conscious fashion industry. Every investment helps Dressingz expand its reach, build strategic partnerships with fashion brands, and pave the way for a more resilient and circular fashion ecosystem.
Together, we can redefine the fashion landscape and make a real difference in the world. Join Dressingz in their mission to create a fashion-forward future that values authenticity, sustainability, and style. Head over to Dressingz's crowdfunding page to invest and become a driving force behind the sustainable fashion revolution! 
Read more insights
Investing Insights / 9 min read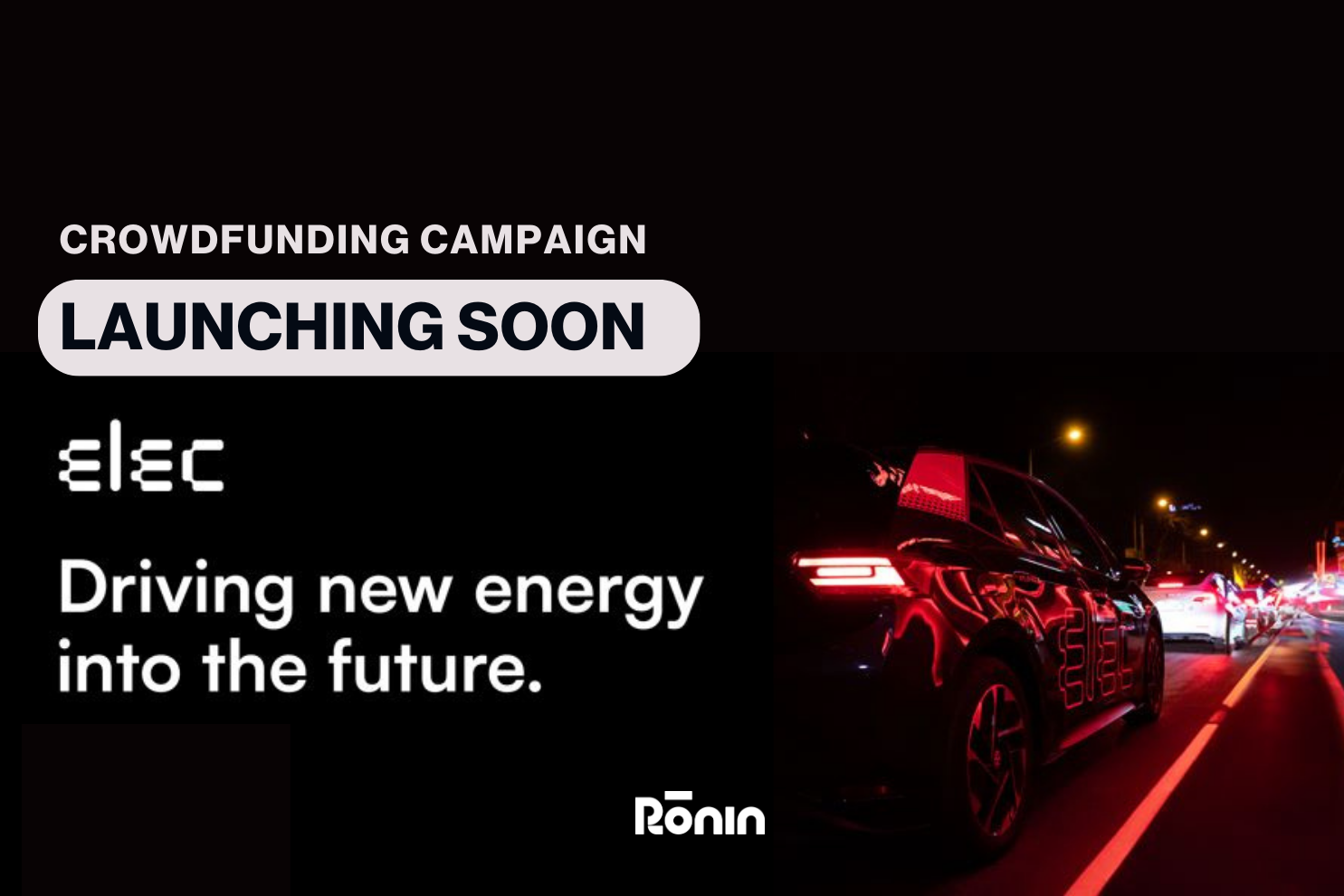 Introducing ELEC: Redefining Travel for a Sustainable Future
Andra Costin on July 11th, 2023
With a focus on sustainability and a vision to redefine travel, ELEC is ready to reshape the way we commute & travel, inspiring a greener and more sustainable world. To uncover the story behind their mission, we sat down with Alexandru Manea, founder and CEO of ELEC.
Rōnin insights / 3 min read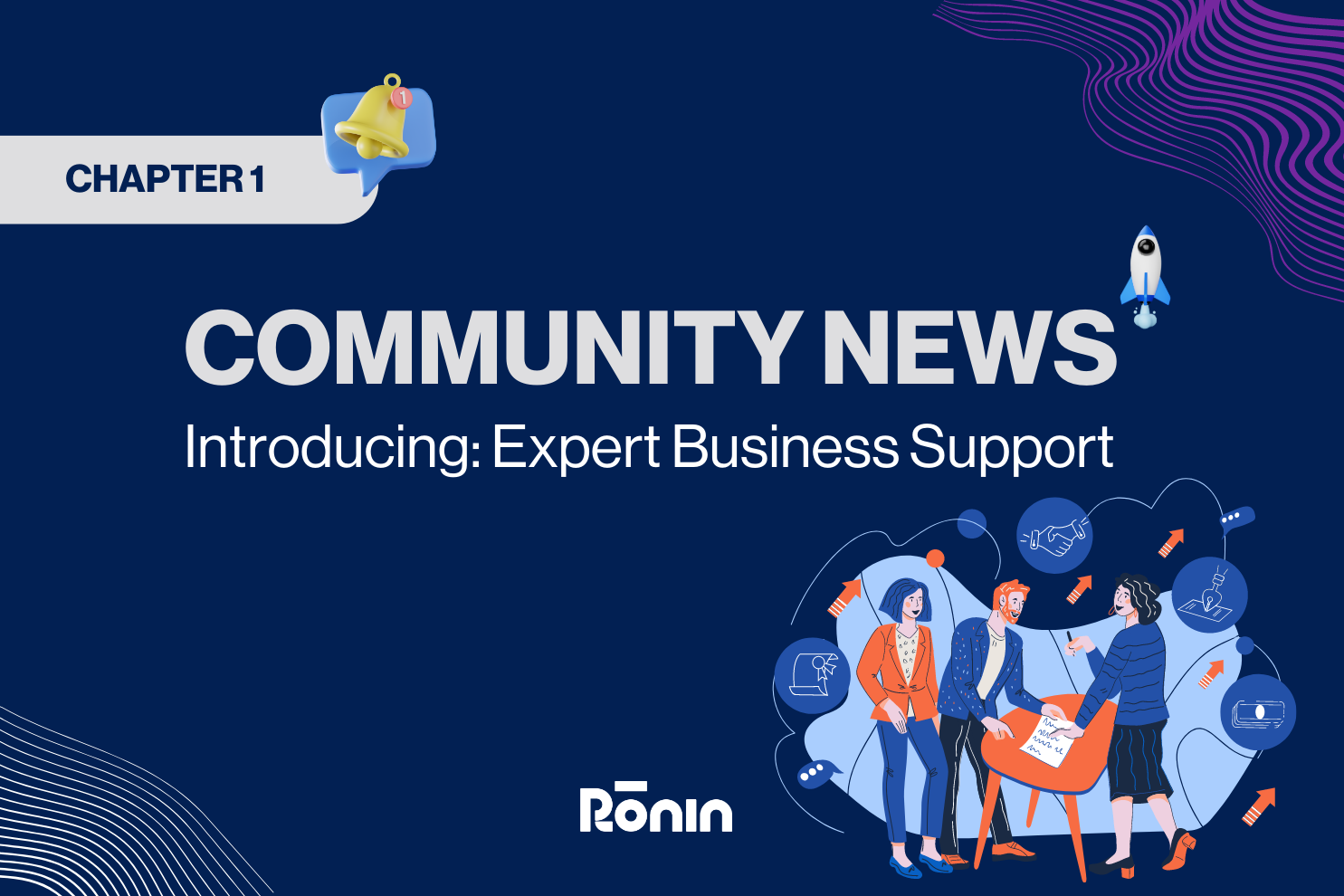 Community News, Chapter 1: Introducing Expert Business Support
Andra Costin on June 8th, 2023
We are thrilled to introduce our latest service, Expert Business Support, aimed at empowering startup founders with invaluable expert guidance tailored to their specific needs. Whether you are a beginner entrepreneur looking for guidance or an established startup seeking to take your business to new heights, our community of experts is here to fuel your success.